Max® Shield Painter's Pro
10.1 oz
Best-in-class performance†
Stretches over 600%†
100% waterproof
Mold resistant†
60-year limited durability guarantee†
Paintable
Low odor
†See Product Disclaimers page for important details
Max™ Shield Painter's sealant is a premium, advanced polymer acrylic latex sealant that is ideal for both indoor and outdoor paint projects. This sealant has strong adhesion with exceptional flexibility and is able to stretch over 600%†. Formulated with Tri-Shield Protection, this sealant is 100% waterproof, offers excellent adhesion and flexibility and lifetime mold-free product protection3†.
Adheres to: common building materials including most woods, composites, brick, stone, stucco, masonry, cement board, drywall, plaster, vinyl siding, PVC, fiberglass and painted surfaces.
For complete product details, see packaging label in the "Downloads" tab.
​†See Product Disclaimers page for important details.
Remove dirt, grease, moisture, soap residue & old sealant from area to be sealed.  Use backer rod for gaps larger than 1/2″ x 1/2″.
Cut nozzle to obtain desired bead size.
Using caulk gun, apply caulk into gap. Apply above 40°F (5°C).
Smooth or "tool" the caulk into gap within 3-5 minutes.
Clean-up with a damp, disposable cloth; do not rinse.
Protect from moisture for at least 24 hours for proper drying.
Exceeds ASTM C-920, Type-S, NS, Class 25 Use NT, G, A, M & O test and Federal Spec TT-S-00230C, Type II, Class A requirements. Exceeds C834, Type-OP, NS Grade -18°C test requirements.
disclosures -needs logic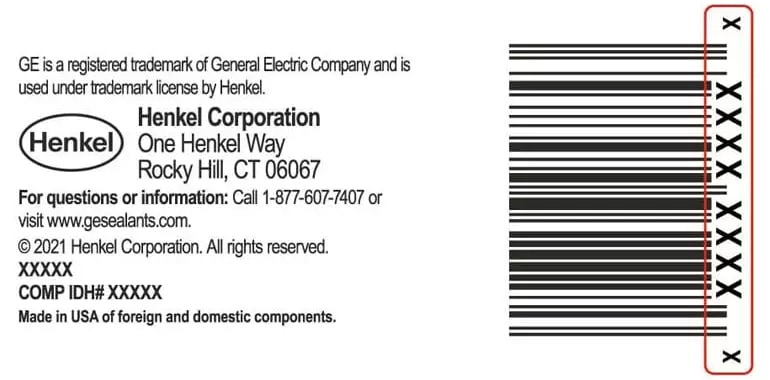 For products produced by Henkel Corporation, please use the UPC Code. You can click on the corresponding UPC code below to access the SDS.. 

Swipe to scroll the table horizontally