General-purpose adhesive
Permanently waterproof & flexible
Strong adhesion
Shrink and crack-proof
Easy to apply
Clear and low odor
Tack-free in 30 minutes: fully dries in 24 to 48 hours
30-minute water-ready†
Limited lifetime guarantee†
†See Product Disclaimers page for important details
GE Silicone 2® Glue is a premium 100% Silicone adhesive from America's #1 Silicone Brand†. Ideal for both household and craft applications, this glue adheres well to glass, metal, plastic, rubber, ceramic, fiberglass, painted surfaces and wood. Use it indoors or outdoors to create 100% waterproof and permanently flexible bonds that can resist impacts and extreme temperatures while remaining shrink-proof and crack-proof. GE Silicone 2® Glue is low odor and dries clear, making it an excellent choice for a wide range of projects, including sealing, gluing and repairing sinks, tubs, plumbing fixtures, ceramic tile, windows, vents, trim, toys, jewelry, art pieces, appliances and much more.
†Estimates of comparative U.S. sales based on analysis of available 2018 industry reports and retail sales data.
Adheres to: most metals, plastics & woods, glass, drywall, plaster, granite, marble, ceramic & formica, fiberglass, aluminum, rubber & painted surfaces.
For additional information, see product label.
Remove dirt, grease, moisture, and old glue from surfaces to be bonded.
Remove cap & cut nozzle to obtain desired bead size.
Apply glue to one surface in a zigzag or "X" pattern.
Join parts together and wipe away excess glue with mineral spirits.
Tape, brace or clamp as needed until glue dries, typically 24 hours.
disclosures -needs logic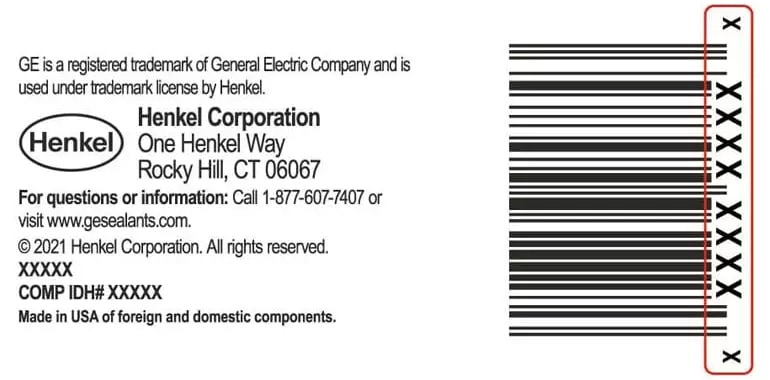 For products produced by Henkel Corporation, please use the UPC Code. You can click on the corresponding UPC code below to access the SDS..