Siliconized Multi-Purpose Acrylic Kitchen & Bath Caulk
10.0 oz
Paintable
Water-resistant
Mold-resistant†
Durable and flexible
Easy to apply
Exceeds ASTM C-834, Type-OP, NS, Grade -18°C requirement
Low odor
Easy soap and water cleanup
30-minute paint-ready†
†See Product Disclaimers page for important details
GE Siliconized Multi-Purpose Acrylic Kitchen & Bath is an advanced grade caulk ideal for decorative and paintable kitchen and bathroom projects. GE Multi-Purpose Siliconized Acrylic caulk offers durable flexibility and excellent adhesion to a wide variety of household materials. It guns out effortlessly, tools smoothly, and cleans-up easily with soap and water. Paint-friendly caulk resists cracking with most latex and oil paints. GE Siliconized Multi-Purpose Acrylic caulk creates cured seals that are durable to withstand frequent cleanings, and retain their original fresh look for long-lasting, professional results.
Adheres to: Common kitchen and bath materials including most metals, plastics and woods,
glass, drywall, plaster, granite, cultured marble, ceramic and porcelain tile, natural stone, cement board, formica, fiberglass, aluminum, and painted surfaces.
For additional information, see product label.
Remove dirt, grease, moisture, soap residue & old caulk from area to be sealed. Use backer rod for gaps larger than 3/8″ (W) x 1/4″ (D). A width to depth ratio of 2:1 should be maintained.
Cut nozzle to obtain desired bead size.
PIERCE INNER FOIL SEAL.
Using caulk gun, apply caulk into gap. Apply above 40°F (5°C).
Smooth or "tool" the caulk into gap within 15 minutes.
Clean up excess wet caulk with a damp sponge before it skins over. Excess dried caulk must be cut or scraped away. Clean hands and tools with warm water and soap.
Allow to dry 30 minutes before painting with latex paint or 24 hours if using oil-based paints. Allow a minimum of 24 hours before exposing to water.
Exceeds ASTM C-834, Type-OP, NS, Grade -18°C requirement
disclosures -needs logic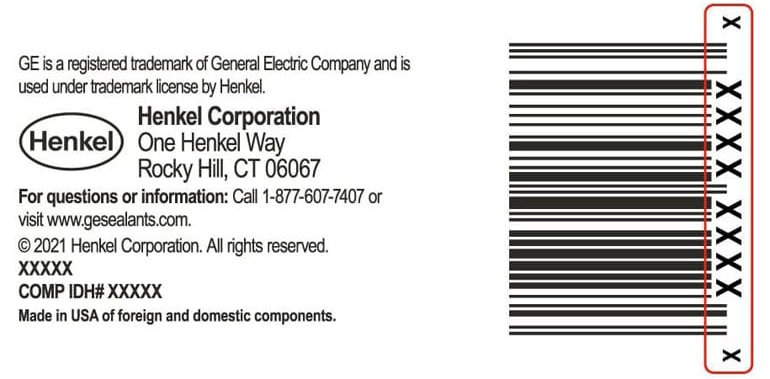 For products produced by Henkel Corporation, please use the UPC Code. You can click on the corresponding UPC code below to access the SDS.

Swipe to scroll the table horizontally