Advanced Silicone 2® Window & Door Sealant
10.1 oz
100% silicone

100% weatherproof

10-year mold-free product protection†

Meets ASTM C-920, Class 35

40% more flexibility than Class 25 sealants†
30-minute rain-ready†

Shrink & crack-proof

Resists UV degradation

Lifetime guarantee†

Neutral curing with low odor

Non-paintable
​†See Product Disclaimers page for important details
Advanced Silicone 2 Window & Door sealant is a high-performance, 100% silicone and 100% weatherproof sealant formulated to protect areas susceptible to harsh weather. These areas include windows, doors, siding, trim, molding, baseboards, vents, basements, attics and around wires and pipes. Its 30-minute rain-ready formula offers 40% more flexibility than Class 25 sealants and is 5X stronger than Silicone 1® sealant. In addition, it has 10-year mold-free product protection to help resist mold and mildew growth. Backed by a lifetime guarantee.

Adheres to: most metals & woods, aluminum, composites, brick, stone, stucco, masonry, cement board, glass, ceramic & porcelain tile, drywall, plaster, vinyl siding, PVC, fiberglass & painted surfaces

For additional information, see product label.
Remove dirt, grease, moisture, soap residue & old sealant from area to be sealed.  Use backer rod for gaps larger than 1/2″ x 1/2″.
Cut nozzle to obtain desired bead size.
PIERCE INNER FOIL SEAL.
Using caulk gun, apply sealant into gap. Smooth with a gloved finger or "tool" the caulk into gap.
Wipe hands & tools thoroughly before washing.
Allow 30 minutes before exposing sealant to water.
Meets ASTM C-920, Type-S, NS, Class 35 Use G test requirements
Meets ASTM C-920, Type-S, Class 25, Use NT, M, A & O test requirements
Fed Spec TT-S-00230C; TT-S-001543A
disclosures -needs logic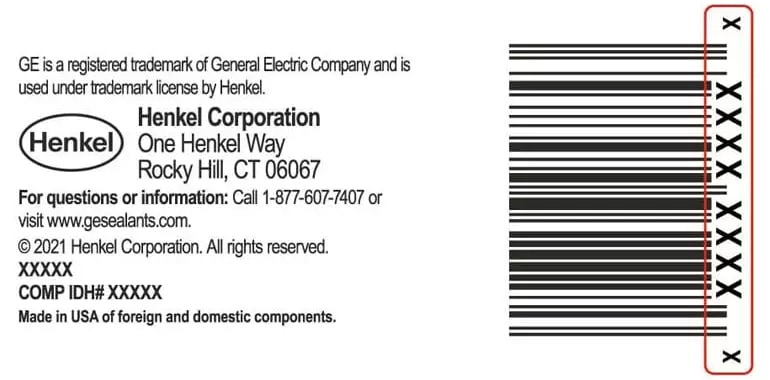 For products produced by Henkel Corporation, please use the UPC Code. You can click on the corresponding UPC code below to access the SDS.. 

Swipe to scroll the table horizontally