Metal Silicone 2® Sealant
10.1 oz
100% silicone
100% waterproof & weatherproof
10-year mold-free product protection†
Permanently flexible
Shrink & crack-proof
Resists UV degradation
30-minute rain-ready†
Will not discolor most high-end metal finishes like chrome, bronze & nickel
Adheres to porous materials & wet or dry surfaces
Lifetime guarantee†
Non-paintable
†See Product Disclaimers page for important details
Metal Silicone 2 sealant is a high-performance, 100% silicone and 100% waterproof sealant ideal for repairing and sealing sheds, siding, gutters, recreational vehicles, roofs and vents. This 30-minute rain-ready formula is metallic gray in color and offers excellent adhesion and permanent flexibility with 10-year mold-free product protection to help resist mold and mildew growth. Backed by a lifetime guarantee.

Adheres to: most metals, stainless steel, aluminum, copper, composites, brick, stone, stucco, concrete, cement, masonry, cement board, most woods, glass, ceramic & porcelain tile, drywall, plaster, vinyl siding, PVC, fiberglass & painted surfaces

For additional information, see product label.
Remove dirt, grease, moisture, soap residue & old sealant from area to be sealed.  Use backer rod for gaps larger than 1/2″ x 1/2″.
Cut nozzle to obtain desired bead size.
PIERCE INNER FOIL SEAL.
Using caulk gun, apply sealant into gap. Smooth with a gloved finger or "tool" the caulk into gap.
Wipe hands & tools thoroughly before washing.
Allow 30 minutes before exposing sealant to water.
Meets Fed Spec ASTM C-920, Type-S, NS, Class 25, Use NT, M, G, A & O test requirements Fed Spec TT-S-00230C; TT-S-001543A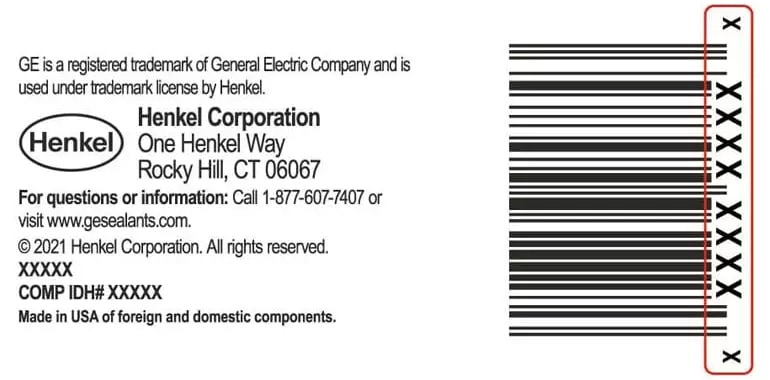 For products produced by Henkel Corporation, please use the UPC Code. You can click on the corresponding UPC code below to access the SDS.. 
Metal Silicone 2® Sealant
Scellant Métal Silicone 2*
Select - N/A
100% Waterproof Water-resistant / Waterproof
30-minute Rain Ready Time
10-year Mold-Free Product Protections
25% Joint Movement
Paintable
Durability Guarantee
Low Odor
Will Not Blemish Most High-End Metals
Available in Squeeze Tube

Swipe to scroll the table horizontally